Social Media
Social Media is Great for With over than 3.4 billion monthly active user, what can give you better chance to boost your Brand?
---
Digital Population
Let's begin with some facts. According to statista.com report in April 2019, There are over 4.4 Billion Internet users worldwide. Over than 3.4 Billion of them are monthly active users on different social media platform like Facebook, YouTube, Instagram and others.
3.4 Billion! This is a huge number! Obviously, It become more urgent now to be present on these social networks or to ensure your presence and activity in a way that serves your business' goals. We believe social media is the best possible way to reach your audience.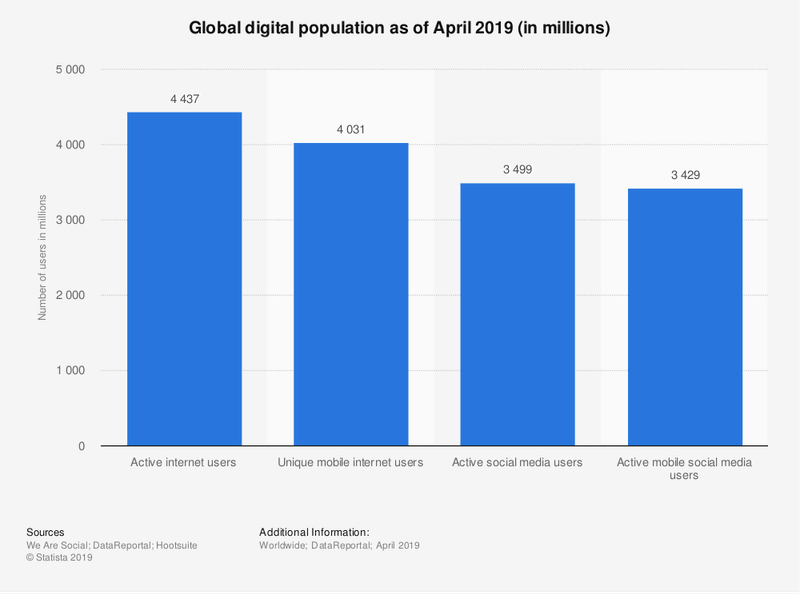 Social Media Population (April 2019)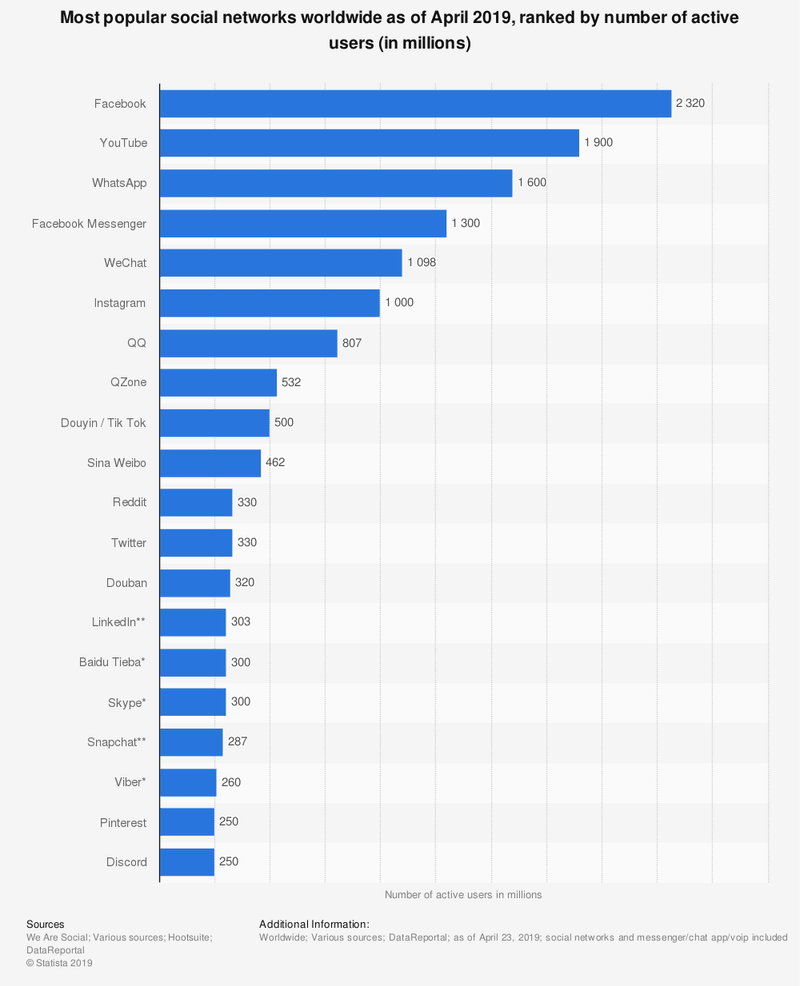 How Social Media can benefit your
Business?
Brand Recognition
Very often consumers buy brands that they recognize. With over than 3.3 billion person, what can give you better chance to advertise your Brand? Social Media gives you a "golden opportunity" to gain your brand recognition.
Customer Satisfaction
Making a voice for your business a cross social media platforms is vital in "humanizing" your business. Your audience will value knowing that when they communicate with you, they will get a "personalized" response instead of a automated message.
Generate More Traffic
Without advertising your business on social media, your website incoming traffic will mostly limited to your usual customers. Social media can be a great way of open your business to a wide variety and attracting new customers worldwide.
Build Reputation
If have a brand, people will be talking about it whether good or bad. Social media gives you the chance to share your side of the story. Building a reputation is not a overnight task but your existence on Social media can definitely boost it.
Accurate Research
Through Research on Social Media, you can gather more accurate information about your audience, who are they, what they like, hate, trends they following. keywords they using. With that data, you can find a far better way to reach them.
Study Your Competitors
Getting information about what your competitors is doing on social media is really helpful. Are they successful? what your target audience are saying about them? It's one of the most Important benefits of Social Media that it gets you closer to your competitors.
Sales Boost
With some well-chosen content, whether it's a Post, Image, or a company video footage, this could be a much quicker and more direct way to give you what need to boost your sales, revenues and improve profits.
Customer Support
Each customer interaction on your Social media accounts is a chance to freely communicate with your audience. Whether it was a question or a complaint, Social media allows you to address and solve the issue quickly and easy.
---
Need a Consultation?
Get a free consultation for your website by our expert team. You can directly call us at +20 155 494 0899 or using WhatsApp chat, or send a message using the link down below. Don't hesitate It's free.